HP M329 M428 M429 Green Screen Repair
Problem Description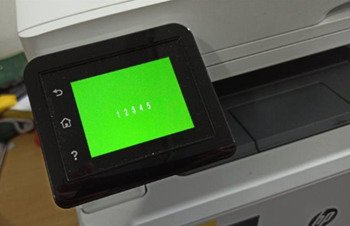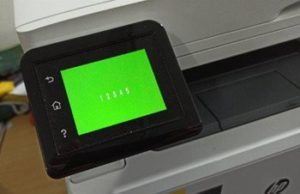 The control panel screen changes to a green color and displays a "12345" message during a firmware upgrade process or when turning on a printer after a firmware upgrade.
Troubleshooting Steps
Make sure to do the following steps when troubleshooting the issue if the error occurs persistently or intermittently.
Did the error display after a firmware upgrade? Yes/No

If Yes, what is the firmware version that the printer was upgraded to?

Did the error display after an error message? Yes/No

If Yes, provide the error code and details of the error.

Which of the following methods did you use to update the printer firmware:

Did you use the printer control panel?

or

Did you use the HP Printer Update Utility (Downloaded the firmware from HP Support website)?

Was the printer set for automatic firmware updates (Printer Update Option: Install Automatically)?
How is the printer connected to your network or PC (Network cable, USB, Wireless connections, for example)?
Recommended Actions
Turn the printer power off and then on, and then check if the error message displays on the printer control panel.
Remove all accessories installed on the printer and turn it back on.
Qualified HP Technicians ONLY:

Check the formatter board connections.

If the recommended actions do not solve the issue, the most common cause is a defective formatter board.
Service Request
You can bring your printer to our office for a free in-shop estimate or we can send a technician to your office, depending on your location.
Please call our office at 305-513-8614 to speak to tech or fill out the form:
HP M329 M428 M429 Green Screen